Are you doing anything special to teach about President's Day? I have found tons of really fun resources online as well as a few that we created at home. Hope you enjoy them!
Read some great books about the presidents:
President's Day
by Anne Rockwell
So You Want to Be President?
by Judith St. George
Little Patriot Press Books by Peter & Cheryl Barnes
- We LOVE these!
I will be sharing their latest book with you in a couple of days.
Lives of the Presidents
by Kathleen Krull
Vinnie and Abraham
by Dawn Fitzgerald
Rushmore
by Lynn Curlee
Duck for President
by Doreen Cronin
What Presidents Are Made Of
by Hanoch Piven
Hail to the Chief
by Don Robb
I made a free
Sort the Coins by President
Printable.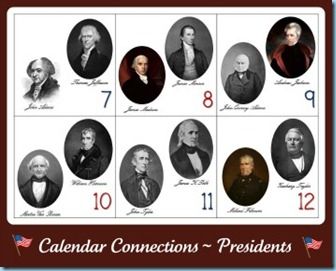 I love the 1+1+1= 1
Calendar Connection Cards
.
We are using the president ones this month along with our calendar bard.


Make this cool
Craft Stick White House
from Caboose.
Learn the song Hail to the Chief:
Lyrics:
Hail to the Chief we have chosen for the nation,
Hail to the Chief! We salute him, one and all.
Hail to the Chief, as we pledge cooperation
In proud fulfillment of a great, noble call.
Yours is the aim to make this grand country grander,
This you will do, that's our strong, firm belief.
Hail to the one we selected as commander,
Hail to the President! Hail to the Chief!
I found some President Flashcards in the Target Dollar Spot a long time ago. We took ours out & practiced putting them in order like a president time-line.
Here is another fun video from Nickelodeon about the presidents.
Hope you enjoy learning about the great presidents of this nation!