I have got the COOLEST thing to share with you today! We have an iPad that we use a lot in our school & just for playing. I know a lot of my readers do as well. I recently got an amazing case for it that works so well for kids to use, as well as for adults! And... one of you will get to win one of your choice as well!

I was contacted by
domeo
to do a review on one of their cases here. When I checked out their website I was so impressed with the quality and uniqueness of their iPad cases. They have some really incredible ones- there are 5 different styles of cases on their site.
I chose to receive the
Tri-Lounge
iPad case because I thought it would be best to use with my kids. My kids really love to curl up on the couch to play or watch shows. They also use it a lot while snacking or eating lunch. This case is perfect for both of these situations.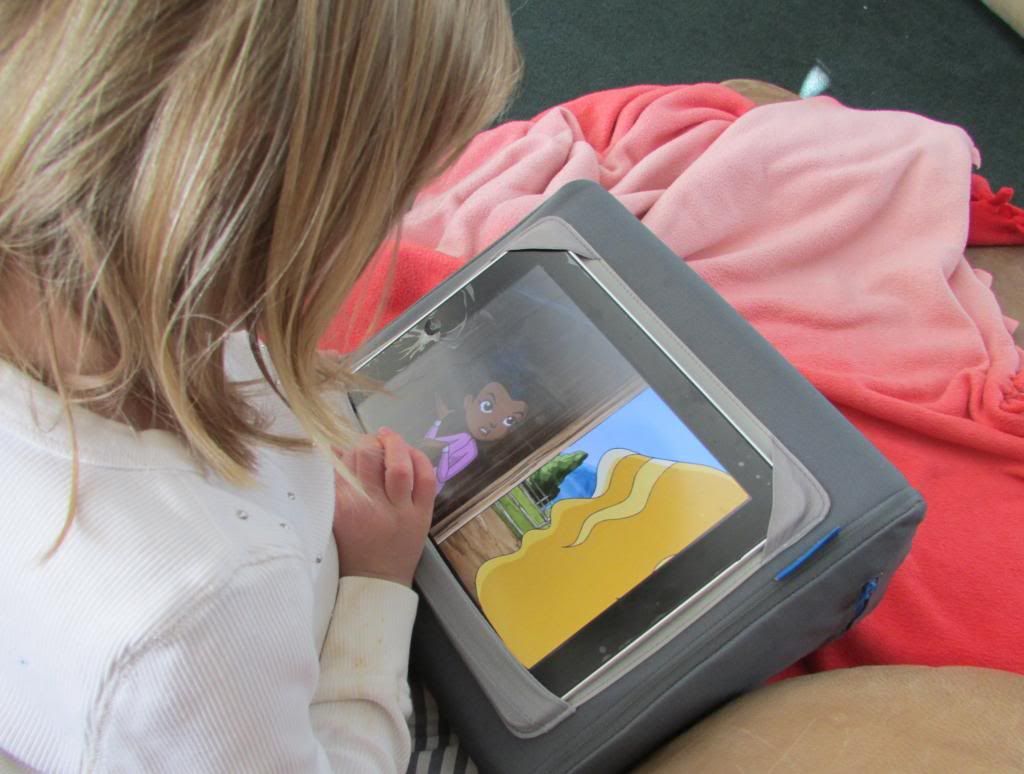 The Tri-Lounge case is like a pillow for your iPad! It is soft and comfortable to use in bed, on the couch or anywhere. I love that is sits upright on your lap or a table. It has a 3-sided design so you can use it in portrait or landscape mode. It has storage for cords and for the iPad to slide right in. Plus it is really durable. I feel safe with my kids using it since it is so soft it really protects the iPad. If you didn't notice from my photos, we need that. We have already done a little damage to ours.
Check out the different views of the case...
Um...kind of amazing, right?!
This case sells for $59.99 and comes in two different colors- gray or beige.
This is what they say about the Tri-Lounge case on the Domeo site:
At domeo, we don't believe in putting the cart before the horse. We didn't just design a bunch of iPad cases, iPad folios and other iPad accessories that we thought people might buy. We did our homework and researched how people were already using their iPads. After our research we then thought about how we used our own iPads, at work, at home, while traveling. That's how we came up with products like the Tri-Lounge iPad case. Whether you are watching a movie or reading the latest best seller, we want you to be comfortable. The Tri-Lounge iPad case provides that comfort along with a versatile and sturdy design you won't find with any other iPad case. Not only does it give you maximize your viewing options, it also provides secure storage for your iPad and iPad accessories when you are ready to call it a night. The plush comfort of a pillow with the sturdy durability of a desk, that's the Tri-Lounge iPad case.
Stop by their site and see if they have a case that fits your needs. I am sure you'll be just as impressed as I am by their products. Be sure to enter the giveaway below for your choice of one of their great cases. In case you don't win & you still NEED one, use this promo code to receive 20% off + Free Shipping: TBM
Stop by and follow them on their social media sites:
a Rafflecopter giveaway